As part of our messy but perfect move to Maui, we spent the last several days of our Maui work-cation either on our lanai slumped over cold coffee and house plans or moving dirt on the lot. The thirty truckloads of free dirt shouldered up, dumped, and circled back for return trips. Sam rented a Skidsteer for dirt pushing and planting small areca palm trees.
Note to Self: Ibuprofen- a gift sent from heaven. Cramming a weeks' worth of dirt work into three days takes grit, plenty of iced coffee, four Band-Aids, tweezers, and Ibuprofen.
Other than the apparent benefits to the hard lot work, we marked the days with delightful moments. Bold egrets wandered alongside the Skidsteer and gobbled up geckos as they ran for cover. The quick dip in the ocean waves after a hot day. The palm trees dancing to the sweet Maui breeze and the cool evenings when we could sit and assess the day's work and smile.
Note to Self: Fresh-picked orange juice- nectar of the gods. The scanned Community Classified ads revealed plants for sale in Kahului. Off we drove to discover potted plant treasures. We met Mark, a quiet and kind gentleman from Japan, then ducked under the carport clothesline and squeezed by the blocked-up old car. An abundance of trees, a koi pond, and plants fought for space in his backyard jungle lined with narrow paths, each bordered by potted starter plants of all sizes and maturity. He nurtured and urged their growth in that small yard as if it was his universe. I imagined he rarely left his home, and his joy flowed from his worn hands to the tender plants and returned as a blessing to his soul. Mark was extraordinary and "talked story" about plant varieties and how the koi pond water provides plant nourishment. He plucked two large, heavy oranges from his tree and placed them in my hand, a gift for visiting.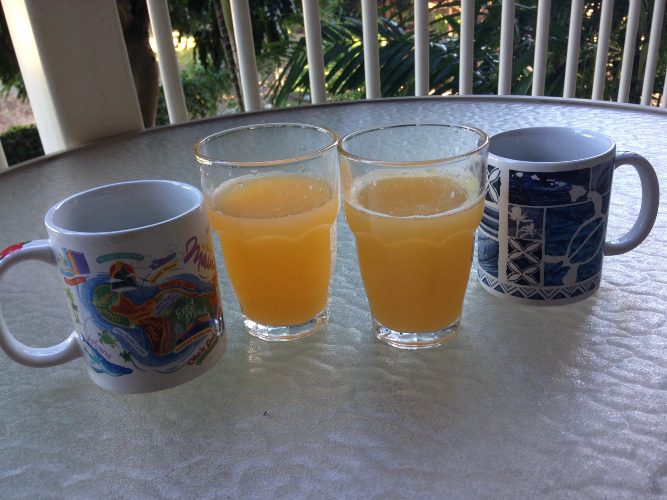 Note to Self: Maui reddish-orange dirt stains and clings to all surfaces. 
When the work-cation waned on our final day, Sam bladed the remaining dirt mound and packed the tools in the storage bin at the back of the lot. We trashed his broken flip-flops, orange-stained socks, and dirt-caked t-shirt before we packed and hurried off to the airport.
It was a challenging but good trip. We pulled out the revised house plans on the plane home and discussed building budgets and the future Maui move. Our budget will be fiddle-tight.
Disclaimer: Sam and I have not won the jackpot yet. Admittedly, we have not purchased a lottery ticket ever. I figure since God runs the entire universe, if He wanted us to win a boatload of money, He has the power to make that happen without me driving to the local store to spend hard-earned cash on a Lotto ticket. The BIG win has not happened yet, but I will forever be open to the idea (from my lips to God's ear). With that said, we have a super-tight budget for our Kihei house. Proceeds from our mainland house sale will funnel into that budget. It's time to complete our mainland projects and get back to Maui!
You will find more of our Maui adventure on the blog page Our Messy but Perfect Move to Paradise. You can find videos on our building progress on the blog page Maui Projects. Mahalo.