Two Containers, Two Destinations
As a child, I walked to the city pool on hot summer days. My rubber swim cap was pushed deep into the rolled towel under my arm for the long walk. I couldn't swim, but I could dog paddle with my head well above the water surface. I remember my strategic beach towel layout by the chain-link fence to mark out my drying out area and the speedy walk-run-walk to the blue-striped water's edge for the first jump of the day into that cool, chlorine water.
The lifeguard whistle warned to don't run. I ran with my nose pinched tightly— ready for the plunge. The muffled bubbles gurgled at my ears. At that moment, I imagined all the extraordinary ways to jump. With my nose properly pinched, it was the Jump-kick, Mock Backward Fall, and the Hop, Hop, Jump— they were all played out on my pool afternoons.
Each swim carried nose pinch mishaps, matched with the struggle to reach air before the panic hit. I was rescued on one occasion by the whistle-blowing lifeguard, but it didn't stop me from wearing the too-tight swim cap and the speedy walk-run-walk first plunge on each of those hot day pool visits.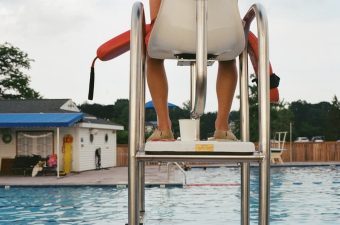 These childhood pool visits replay as we travel this Messy but Perfect Move to Maui adventure. Okay, no actual nose pinching, but we are risking everything, which locks me in protection mode and hints of a peculiar scent of chlorine in my nose. Memories of the struggle to catch my breath, the speedy walk-run-walk, warning whistles, creative jumps, the rescue, and beach towel dry out time— all circled back to revisit me with this Maui move.
The official Hawaii State fish is eight inches in length and named Humuhumunukunukuapua'a. This humble fish with a daunting name became indicative of how elaborate our attempts to carve out a simple Maui life had become.
With sore feet propped up on the bow of our liveaboard boat at Lake Union, Seattle, Sam and I held tight grips on cooling cups of coffee and the crumpled multi-page To-Do list. We numbly stared at each other with wild/scared/excited eyes— what have we done, and how do we keep our heads above water?
Now, Dear Reader, if you've followed Our Messy but Perfect Move to Maui posts, then you know this story is not complete. To date, Messy but Perfect balance is weighted heavily on the Messy side while the Perfect side seems to dwell only in our heads. Unlike the elite of this world who could make a few calls to make it all happen. They could book a first-class seat, arrive on-island, and be chauffeured directly to their meticulous and furnished home.
We were the alternate universe— the DIYers— the dirt-under-the-fingernails, sweaty, tenacious working type. It had been a pummeling series of challenges to find/buy our Maui lot, design/submit house plans, and close our construction business (sticky process). Then we sold our home, lived on a boat for the summer, all with the dream to dig our toes into warm Maui sand.
The seaworthy shipping container hauling had been a knee-scraping hurdle, and this is my short version story— just in case you decide to make a similar move to an island. We divided the household goods and construction equipment/supplies into two high-cube (extra tall and a worthy upgrade) shipment containers that we purchased.
We locked eyes at the cost, but Sam, using his calm, walk- don't run, voice, reassured me that we could resell the emptied containers and make extra cash. High-cubes are at a premium in Maui, and we will undoubtedly need the bonus funds.
Two containers: each to go to different islands, Whidbey Island, WA and Maui, HI. One container intended to be packed and loaded onto our tandem axle truck and hauled to Whidbey Island snugged deep on our recently purchased lot (an entirely different tale to be written at some point). Since our focus was on Maui, it will remain on the old, trusty tandem truck for an extended time. 
If you had stood at the front door of my house with me, you would have noticed the duality of decision-making and pointing— That bed frame and blankets go to Whidbey, the coffee table, and fans go to Maui.
It played like that for hours until only dust bunnies were left to sweep and a few furniture keepers for the new homeowner. The potted tomato, blueberry, and strawberry plants were lovingly hand-trucked to neighbors.
Oh, but there are significant drilled-down details to the details. We pre-planned most of our pool jumps. We used the First In, Last Out (FILO) system for each container. The bed, couch, and similar items go deep into the container first since we will be renting a fully furnished O'hana while we build our home. That allowed Sam to access building supplies and an excessive number of tools (most notably the First aid kit).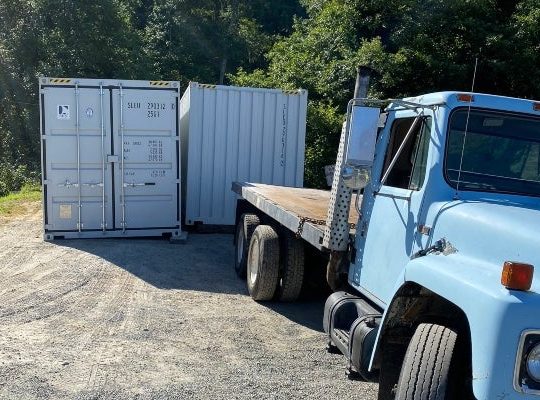 Our wallets flapped open constantly to allow the hard-earned money to flow freely, and my accounting skills were hard-pressed to track costs— bank statements revealed the missed bits and pieces. We were drowning in receipts. They were tucked in pockets, car compartments and held to the table by water bottles. If you were to ask what it costs to move to Maui, I would retort— everything. But in reality, it depends. There are too many variables of which I can list when asked.
Finally, the vast container door hinges moaned shut, and the locks clicked. Sam drove/lurched off with the Whidbey container hunched on the back of the old tandem axle. A new, fancy-painted shipping truck transported the Maui unit to store on a lot for the summer awaiting the final Maui move.
My arm muscles twitched from exhaustion, and my brain had turned to lukewarm mush as I slid into the driver's seat to meet up with Sam at Whidbey. That everchanging To-Do List whistled alarms frequently as it peeked out from underneath my purse. The half-eaten sandwich, Cutie orange, and the un-forwarded mail rescued from the old mailbox sat precariously atop the laptop and printer in the backseat. I was silently grateful to turn the music up a notch or three to drown the bubbles gurgling in my ears, roll down the windows for airflow, and drive in an otherwise quiet car for an hour or two.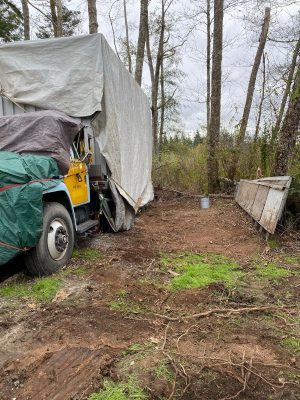 I pulled up to the Whidbey Island lot. The shipping container with a truck underneath set off stress alarms in my luke-mushy brain. That truck is old. Sam maintains it's not old because it's a diesel, but the yellow replacement door and the rust speckled exhaust pipe, bumper, and undercarriage speak otherwise. Now we have a blue tarp involved to keep off some rain. 
Next to the truck, our backhoe was parked. Next to the backhoe sat assorted accessory buckets and additional blue tarp tied strategically to nearby trees. It smacked of a combination between homeless encampment, hoarder, and The Hillbillies, and there was nothing I could do to fix that tangled mess. Dog paddling frantically in my mind, I averted my eyes.
We drove to the boat in silence— determined to deal with mess adjustments another day and desperately hoping for a whistle-toting rescuer. We needed rest— a hot shower (an enclosure nearly the size of a shoebox) and a boat's night of sleep to set the world straight again. To keep my head above water, I parked the To-Do list under the coffee thermos for the next days' review.
At that old city pool, I watched other children jump in the cool water without plugging their noses, and when they calmly breached the surface, their noses blew air bubbles artfully. That took talent I recognized I would never possess. Admiring their effortless abilities, I knew I would always be the odd duck, the one to struggle at each jump. But the refreshment remained the same for both the able swimmers and the dog paddler. DIANA WARREN