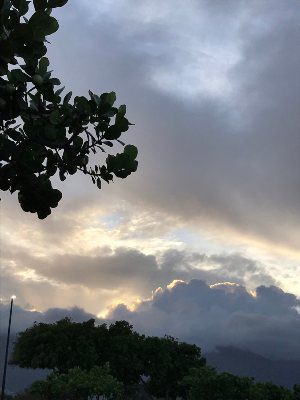 It rained a glorious rain in Maui. North Kihei experienced a long, jagged dry season, which has gone unnoticed as the ocean laps the shoreline, but palm trees thirst for this nectar drink.
I rain-binged while sitting on the yard swing, feeling the tiny, cool raindrops touch my skin and dampen my clothes. There was a sharp squeak on the forward swing, but the return swing was silent.
Mesmerized, I recalled the last soaking rain and whispered thanks to God for his countless blessings. The bird chirps were noticeably hushed while the geckos and bugs dwelt in dry places. Like a sheet clipped to a clothesline, the wind danced with the drops and pushed them in flaps as they fell.
The day yawned into a refreshing evening. I relaxed on that half-squeak swing, listened to the lively music resounding from the courtyard party next door, and the raindrops pitter-patted on my skin. The floral aroma was tantalizingly sweet. My skin, the firm dirt, and plants absorbed, no, thirstily gulped the abundant providential moisture.
The next day's rain paired with the wind was refreshing, and now the palms stand tall and swagger their sway. These deep roots will not reject their benefactor but soak lively in the remaining honey water puddles.
Spent Plumeria blooms had fallen, wind-scattered, as if tossed from the flower girl's basket, in their final lei presentation. The greens are greener, the reds and redder; each mandarin and papaya look brighter and plumper in my imagination.
Large puddles tempt my exuberant splashing with these thirsty bare feet. It soaks to my knees if the jump did its proper justice, and I recall those young days of galoshes, umbrellas, and raincoats, quickly followed by stern reminders to not get my Sunday clothes wet.
In those days, the jumping was vigorous, and the splash would've reached overhead greatness. These bare feet are older now but forever grateful for the cooling, sweet puddle.
By Diana Warren