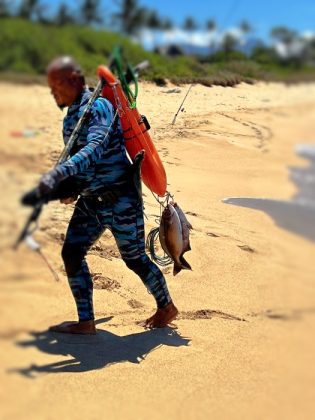 I stood knee-deep in the coarse sand of the North Maui shoreline. The sun stung the back of my neck as the palm tree shade ditched and swayed in the breeze.
A smattering of sandcastle-building children ran to the shallow to fill one more bucket of water, then drip-run back to their masterpiece.
Relaxed parents talked story under umbrellas, some more animated than others. One tended to the fishing pole extending from the sand into the water.
Beach fishing is common on Maui. We've noted ingenious ways the fishermen throw their lines. They were sometimes thrown as far as their arm muscles allowed, and the pole whirrs until the line finds its deep spot.
We saw a line attached to a drone, flown offshore, and then plunged into the waves. We've admired a canoe paddler a few times as he pulled the bait line far from shore before returning to command the beached pole.
Today I had no intention of wading further into the water and stood silent, in awe of the rippling, cresting waves that found their way toward me and then foamed at the beach edge. I blinked at the clouds and quietly thanked God for such a scene.
Suddenly, a fish spear pierced the water's surface and drifted vertically and directly toward shore, then a man. I was mesmerized to see a fishing warrior emerge from the water's deep, wading slowly from his hunting ground.
Two fish dangled behind his back, and he continued up the beach to his pickup as if this was his typical day. We followed at a respectable distance to discover more of his story.
He methodically dismantled each accessory attached to his body at his pickup, followed by the two fish. He placed his equipment in their respective bin and keepers and attended to his catch.
"How was the spearfishing?" we ventured, hoping he would talk story. We were blessed to hear his way of life and manner of fishing.
Our day that began with a seashell treasure hunt ultimately transformed into a rare moment and genuine admiration of this fisherman's way of life.
By Diana Warren