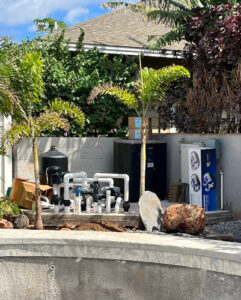 I admit our everydays resist the norm for retired empty-nesters. Building a large house can be inundating and completely frenetic.
Please don't read me wrong, Dear Reader; we are grateful to live in Maui. However, we seem oddly dedicated to concocting our very own bowl of lukewarm slurpy stew and therefore exist in both complicated and tiny messes of our own making.
For example, the backhoe is parked aside the pool by the lanai, like a rabid dog yanking at his chain tethered two feet from grandpa mid-nap on a hammock. 
My kitchen window overlooks two table saws, an old lawnmower (we have no lawn), tarps, a ridge cap in progress, and an oversized orange tree currently surviving in a too-small pot.
The newly procured boat trailer is loaded with trim boards, freshly painted, and in cue for installation. Throughout the landscape, various extension cords, compressor hoses, shovels, lumber, and pipe indicate each project in multiple stages. Our new pool skimmer net and supplies have yet to find a hiding spot.
Do you hear the cacophony? Each project is caterwauling its existence and shoving itself up the task list leading with boney elbows. The sharpest elbow wins.
My kitchen counter holds a screw assortment, graph paper, miscellaneous washers, spec sheets, one long galvanized nail, three unidentifiable parts, and several six-inch swatches of artificial turf from California. I would sweep all of it into a junk drawer with one dramatic, fluid motion if we had such a hiding spot— however, my husband would suddenly call through the house in desperate concern for their whereabouts.
Our mornings involve problem-solving chats, pencils, measuring tape, and a project list. The discussion is interrupted by microwave coffee reheats and a few tactical disagreements. Once satisfied with our focus for the day, we smile and head off in different directions with fervor.
In full disclosure, this Maui house has two kitchens, two wet bars, and three laundry areas. Our project is nearly twenty-three months in the making, and more items are added daily.
Here's a sample of our typical Maui day for those of you without a backhoe parked indiscreetly in your yard, a ladder haphazardly propped against your roof, and a pool electrical inspector scheduled for the morning. Parents with several children still at home may relate to similar craziness.
We rise with the sun and hope a working crew will arrive— then determine which team, pool or solar. Remember, we are on Maui time— we need to smooth our ruffled feathers and see if a worker shows up. If not, then redirect our day.
We enjoy breakfast outside, exhale and watch the dove family in a palm tree push their brood out of the nest for a precarious, wobbly flight.
On this day, I re-potted Pepe (Hala Pepe plant) and hand-trucked it to its spot near the pool. A glance back made me smile at such a perky plant and ponder its sun exposure.
Two vanity mirrors purchased from the local classifieds leaned by the garage door. One required proper sanding, masking, and a spray coat of primer (from the paint supply bin in the garage— under the folded beach chairs and trim boards of random lengths). 
With sticky, black-painted hands, annoyed I hadn't used the disposable latex gloves, I disappeared down the hall for laptop work and cancellation/ reorder of the right upstairs appliance. My husband began a leaf-blowing expedition, then a scooter ride to the hardware store for pool additive. Mirrors installed— perfect, done, and on to the next task.
After a quick cool dip in the pool and wet towels dripping off the lanai chairs, we installed the soundboard and prepped for drywall in the family unit. A debate ensued about the upstairs wet bar layout. Details converged through pouty eyebrows, eraser marks, and lots of finger-pointing before the plan became final.
Lunch was enjoyed similarly to breakfast. We rescued a swimming honeybee from the pool between sandwich bites. We splashed it onto the concrete, but it may not recover from its sogginess— sad, but our day moves forward.
Sam seized the electrical outlets project upstairs. The ratchet and vacuum noise drowned out my limited website design focus; the list is reassessed. 
I halted mid-step to scrutinize the recently hemmed and hung curtains now puddling on the floor. A pencil was snatched to add: unhook, re-hem, re-install curtains.
Mid-afternoon, we convened for the day's assessment and redirection. Added to the list: construct a privacy fence to hide the pool heater, filter, and spaghetti plate of piping. Details ensued for the post and gate.
 With a quick reminder for the construction disturbance to end at five o'clock, Sam quickens his sanding pace— then time to make dinner and plop down to stare blankly at the pool.
To some retirees, our days may seem overwhelming, but to us, they— well, I must admit, are overwhelming to us also. We certainly live a tipped-scale Maui life until this project is complete.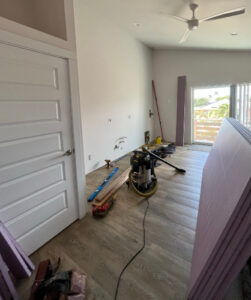 By Diana Warren